March 19, 2019 | Garrett Cosenza
Our Fault Line and Sauvignon Blanc
"All I'm saying is that minerals are just a rudimentary form of consciousness whereas the other people are saying that consciousness is a complicated form of minerals."
-Alan Watts
There's a wine shop not far from where I live, and I frequent it often. Back in December, they hosted a tasting of some of my favorite Sauvignon Blancs in the world-Dagueneau- and it's difficult not to taste what may very well be close to perfection (albeit, through my lens) while considering our humble new wine in the context of worldwide offerings.While we lack the ancient limestone soils of the Loire, what we do have is a fault line that runs adjacent to our Sauvignon Blanc plantings. Could it be the future site of the Big One? Who knows, but the eons of non-existential seismic acitivity have kicked up some really interesting mineral bands and have created incredibly unique profiles containing iron and flint. Sauvignon Blanc is new on our estate, and the goal when creating this wine was to have all these quirky, previously unseen bits of earth come through in the glass.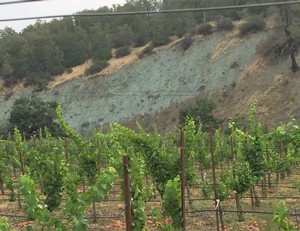 The elements of flint are omnipresent on the nose-chalky marl that doesn't typically appear in our estate soils lends a stony reductive quality to the wine's aroma. Lower crop yields (3 tons/acre) help retain flavor concentration but these aren't your standard gooseberry/boxtree notes. Our Sauvignon Blanc conjures more savory aromas: gunmetal, quartz, and tarragon to name a few. Serve this one a little on the warmer side to get full expressions. The aforementioned fault line is the real star of the show here, and our 4-acre parcel sits quietly in its shadow.