April 3, 2019 |
Garrett Cosenza
"Patience is bitter, but its fruit is sweet."
-Jean Jacques Rousseau
The end of March typically correllates to bud break in our vineyards. Vines, awaking from dormancy, shoot forth new growth, thus signifying the beginning of another season. However, if your Weather Underground phone appp gets as much use as mine then you're already aware of the incredible amount of rain that Pope Valley has receive since the water year started in October. Due to the inordinate number of cool, overcast days, our vines have decided that winter will last just a little longer on our property.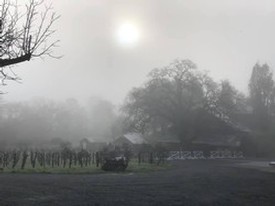 As March turns into April, there is still no sign of bud-break; while that's not detrimental to overall quality, it just means that I won't be making any Thanksgiving plans just yet. So, alas, I don't have any pictures of springtime to share with you, I do have something better---wine! And isn't that better?
The (eventual) coming of spring brings you our very first estate Sauvignon Blanc! In 2018, our four-acre, faultline-adjacent parcel yielded a small, mineral-driven crop (for more information on the site, someone -me- wrote a great blog post prior to this one). Generous acid gives this wine enough verve and tension to carry you into the warmer months.
Some recent time in Italy has my wife and i considering the key elements that drive really delicious Sangiovese, and I'm proud that our 2016 offering is unlike any red wine currently being made in Napa Valley. Our volcanic soil with bands of slate are just what Sangiovese needs to express itself fully, and we are inspired to see just where the program can go in the coming years.
Finally, Petit Verdot is a varietal that has gained some attention around here, and our 2015 bottling is a shining example of what we feel the grape can deliver in terms of concentration and elegance. Conventionally utilized as a blender-grape to add some backbone to softer Bordeaux, Pope Valley Petit Verot has earned a place on its own. Enjoy your wine club selections that are coming to you soon. Cheers!